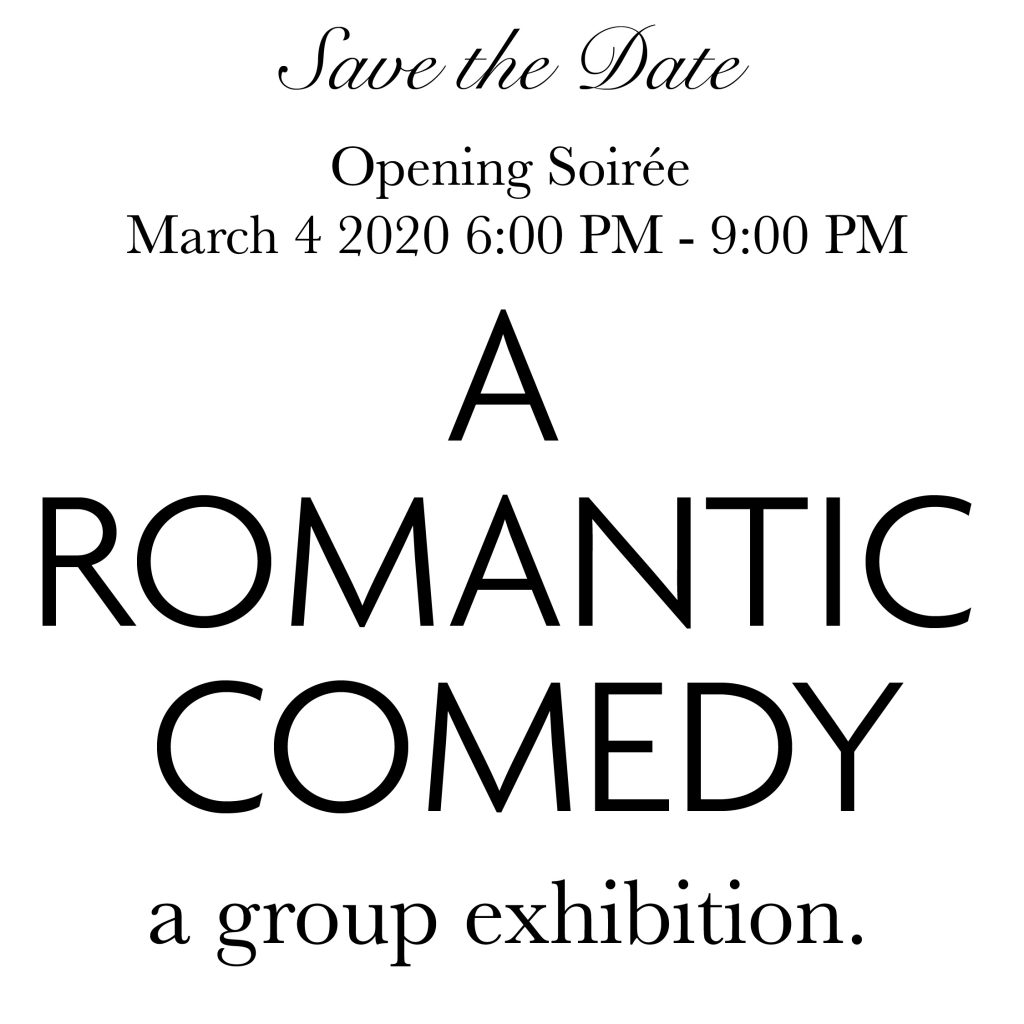 A ROMANTIC COMEDY
A group exhibition
Curated by Steven Pestana & Sophia Sobers
A Romantic Comedy​ to feature large-scale installations and interdisciplinary projects by emerging artists exploring romance and courtship.
This 16,000 sq ft exhibition, hosted by Wallplay, casts a playful eye on courtship, domesticity, the workplace, and online dating. The opening event will take place during Armory Weekend. The exhibition will continue throughout the month of March.
Opening Reception: Wednesday, March 4 2020, 6–9PM
Location: 25 Kent Ave, Williamsburg, Brooklyn NY 11249
February 25th–March 31st, 2020
Exhibition is open to the public Wednesday-Sunday, 11:00am-7:00pm.
Wallplay is pleased to present Sophia Sobers and Steven Pestana's ​A Romantic Comedy​. The group exhibition explores romance in the 2020s through immersive installations, sculptures both miniature and gigantic, and vibrant, sometimes monumental painting bursting with color and movement. Situated at 25 Kent, a new construction just off the Williamsburg waterfront, ​A Romantic Comedy​ plays with ideas of courtship, domesticity, and the workplace—what society presents to the world versus what is hidden.
The exhibition features over 50 works of art created by over 25 international and local artists. Highlights include:
●  a 5,000 sqft. curatorial centerpiece, envisioning an eccentric domestic space
●  a full-scale, life-sized recreation of an oppressive, dystopian office environment
●  a hyper-realistic miniature white cube gallery space with a micro-exhibition inside
●  a light sculpture spelling out the word Moonlight with the image of the moon as its backdrop
●  a video installation exploring the darker side of consent
●  several immersive artworks, large scale sculptures, and interdisciplinary projects
A Romantic Comedy​ features the work of artists Andrew Allison, Kajahl Benes, Sammy Bennett, Joe Bochynski, Adam David Brown, Lauren Comito, Victoria Crayhon, Sandra Erbacher, Kevin Frances, Garrett Gould, Kay Healy, Kyle Hittmeier, Jared Hoffman, Jon Laustsen, AJ Liberto, Haley Matis-Uzzo, Cleo Miao, Holly McGraw, Amanda Nedham, Caleb Nussear, Barbara Rink, Megan Stroech, Amanda Thackray, Estefania Velez, Justin Wood, Andrew Woolbright, Tianyi Zhang and a unique standalone exhibition by alternative art space Flyweight Projects featuring Irini Miga.
A Romantic Comedy​ will be on view at 25 Kent located at 25 Kent Ave, Williamsburg, Brooklyn NY 11249 through March 31, 2020 with an opening event on Wednesday March 4th, 2020 from 6PM – 9PM.